Industrial Automation Services And Project
IOLOGIX Automation solution is involved in Panel Construction service, PLC design, development, and execution of industrial based automation system for Process and machines and SCADA/HMI automation service and extends support services meeting and exceeding customer expectations.It helps Industrial Users to increase productivity, reduce downtime, save energy and provide a safer work place by providing automation solutions that are beyond mechanization by greatly reducing human intervention in the operation of machineries. We have very talented and experienced people to trouble-shoot the problem and well-experienced to make design,program, simulate and test automated machinery and processess in order to complete exact tasks.
We provide automation services in various plants like water treatment, food processing, batching system, power handling system, filling system, pneumatic, conveying system etc …Our engineers are skilled in Schneider, Rockwell, Siemens, Omron, and Delta make PLC, HMI and SCADA.
We provide PLC programming services for All kind of Industries like Automotive, Food Industry, Materials Handling systems, Printing Technologies and etc. We have Strong technical knowledge in various PLC Brands like Siemens, Rockwell, Omron, Delta, Mitsubishi and etc. We Provide End to End Solutions. This is our endeavor to serve customers with better quality.
Specialized in
PLC Programming Services
HMI Designing
SCADA Upgradation
VFD Troubleshooting
Electrical Panel wiring and troubleshooting
Data Logging Application
PLC Retrofitting
IOT Application
Robot Interface with PLC
Scanner Programming
Printer Applications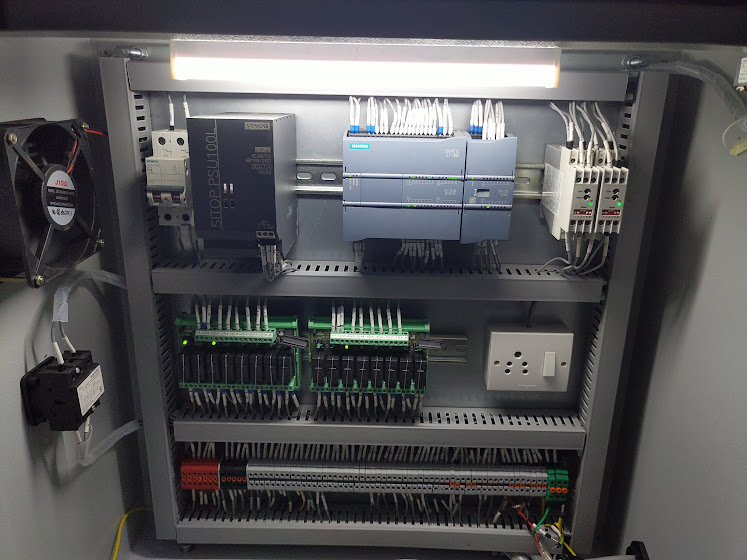 Deals With Major Brands